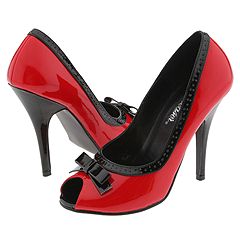 not really, i mean, i'm one person.

but i buy a LOT of shoes.
moreover, i spend a lot of money on buying shoes (cheaply).
once, when i was so in love with a pair of shoes, i paid double the price of the amount of the shoe just for shipping--only to repeat the experience when the size received was too big. that wound up being around a two hundred dollar experience, i believe.

so, in short, you want my business.
(you already have my mother's, heh.)

you only carry one brand that i'm a diehard fan of. moreover, you only carry 60 styles, many of which are outdated. but, regardless, i'm a shoe fanatic, and so i found a pair i liked that i didn't already own. only to discover that they are being sold for $56.

now, i realize that your shipping is free--and that is why i had tried hard to find something to purchase. i support that. i also support @zappos and the awesome work Tony is doing via twitter (i will win one of those contests! mark me.)

but why would i buy these shoes from zappos.com when i can buy them usually for around $30 +S&H, which (unless i'm overnighting) does not calculate to $56. i understand i may be paying for the service of indefinite returns until i get my size at no additional cost... but if i know my size and i'm familiar with the brand i'm buying, this does nothing for me. not to mention, you don't even carry delicious.

why are you spreading out to other reaches in accessories and gadgets for the zappos brand before finishing off being the shoe hub that you are?