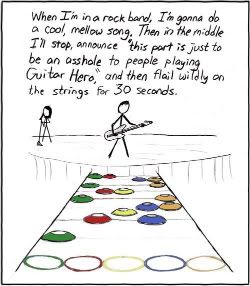 news in the gaming world. or at least in the pseudo-gaming world, because it seems the only game i know almost every plays is Guitar Hero and/or Rock Band. so that is to what i am specifically referring.

in case you couldn't master Guitar Hero, what with all the pressing of buttons, you can instead slide things. @irockiroll pointed this gem out to me: Guitar Hero for DJs, officially sanctioned. it'll bring me back to my high school and college days for sure.

in the realm of Rock Band, they're taking it to The Next Level. they're turning the amps to 11. you heard right. they sold their souls to MTV and now there's going to be a reality tv show. the guy who did the Apprentice and Survivor is going to make you eat the undersides of barstools until you make enough to play in a dive.

just kidding. i hope.

update!!! update worthy of three, count 'em three, exclamation points. ! [ok four]. MTV has no more music. that's it. it's over. my teenage life is over. for ever. what happened. where are my music videos. WHAT HAVE YOU DONE?!