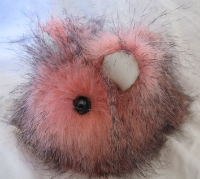 this is the third official post of project Lovefool, wherein i promised i would:
"post about how much i love your brand. why i love your brand. and how much i'm willing to talk about how much i love your brand."

because i'm so fickle, this project has become fewer and more far between. but i think that lifts up the things i'm dedicated to even more. previously in Lovefool, #1 was To Write Love on Her Arms, my favourite charity; #2 was Pandora, for all my music radio needs. this round, i give you the elements of style. it's up to you to arrange them and bring out your inner indie kid.

target #3: Etsy.
[as if you couldn't tell from my tweets over the past week.]
shown left: Rock'N'Bun-ee, a possession from JitterBugBark
why you should care:
if you ever wanted a closet full of personal designer gear, you should care. if you're that discerning connoisseur of home decor, you should care. if you are a geek and want all the bracelets from Twilight in different artists' interpretations, you should care (or if you're a geek and want Darth Vader lego earrings). if you are that kid who listens to 250 bands no one else has ever heard of, you should care. if you're the sort who wants a one of a kind gift, or loves the individual look a 1-of-only-5 tie can give you, you should care. but most importantly, if you want a say in your style, if you want to be social about your purchases, and if you want to support DIY in our economics, you should care.

why i love them:
i love Etsy because i have a very distinct sense of style and a need to be social combined with a deep love of and respect for DIY (do-it-yourself) culture. i love them because all the stuff is so interesting and unique, and because the price range (while vast) is also at one end very affordable. i love it because i'm a small person, and the artists are really, really excellent at working with me.

i've gotten a bracelet shortened, a wallet redone in black and white, a swallow necklace resized from 2" to 1", and two lovely Brooklyn ladies (Lianna and AJ) are making me a custom jacket--to name a few. many of the sellers are really friendly and welcome this sort of interaction. they want to see you love what they do just as much as they love to do it.

this ability to reach out to the artists and have collaborative conversations has dramatically increased my loyalty to the site.

how much i'm willing to talk about how much i love them:
in the past week alone, i have purchased 11 items, 4 of which were gifts to spread the love. i have another 7 items on the docket for my next paycheck. i have been talking about Etsy on twitter probably far more than my fair share. i've told my friends and family. i have installed Etsy widgets on Facebook and on my blog, which you can scroll down on the right to see what new fun things i've recently bookmarked.

there are many ways to search Etsy. if you go to the Buy tab, you can search by colour, proximity to your location, recently listed, and by "connection"--seeing who else likes the things you like, and then viewing other things they like--among other ways. it's also fun to search by team (groups of sellers with a common goal/theme); i love browsing DIYScene team. also, just run a word search of your favourite things--you'll be surprised what creative, insightful things come up! searching "Alice in Wonderland" found me any number of interesting necklaces, corsets, ties, wall hangings, decor, etc.

how much i love them/aka/the backstory:
! i am also going to take this time to highlight some of the sellers i've had truly excellent experiences with in case you are interested in their work as well. i highly, highly recommend the following thus far:

Emily, @ Faster Than You*
[old school tattoo style, hand-painted art on jewelry]
Lianna [& AJ], @ Vigilante Labs*
[vintage inspired modern custom clothing for men & women]
Erin, @ Insane Jellyfish
[hand-stamped silver/pewter jewelry, very unique]
Deanna, @ Baroque & Roll
[girly/artsy designs on leather and fabric, accessories]
Emily, @ Dismantled Fashions
[ladies' retro & punk clothing with cute accessories]

*those with asterisks have gone, in my eyes, above and beyond the call of duty as an Etsy seller. i have had extensive conversations with both these ladies about highly customized work. Emily is transforming a necklace of hers that i loved to sit like tattoos on my neck, and was kind enough to make a second set so i could give it to a friend. Lianna and AJ are meeting me in person for choosing fabric and taking measurements, which is not required (often, it's all discussed online and i'd take my own measurements). if either of these ladies can do anything for you or for a loved one, i would highly recommend them. they are prompt, accessible, friendly, and make me excited about their work.

! if you want to see other sellers i've bookmarked (but haven't yet had the chance to interact with) feel free to browse my favourites.