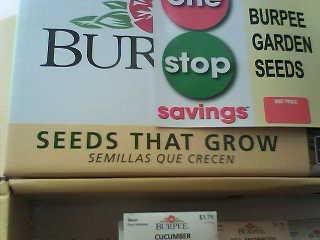 dear Burpee:

i seem to have a problem. i bought a package of your seeds the other day from my local supermarket. seeds seemed simple enough to me, and i know you're a well-known, reputable name, so i don't impugn your seeds at all--i just seem to be having trouble.

i took them home and placed them on the window sill. should i not have done that? i thought plants needed light, but i could be wrong. i know it says that your seeds grow but i've seen minimal results.

i'm really disappointed in your product. i don't know that i will be purchasing again.

cordially, miss Riot.

----

"seeds that grow"?! wtf? as opposed to seed that don't? auto-growing seeds?
picture courtesy of my brother, who shot and pic messaged it to me last night.