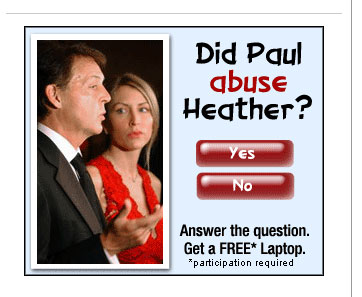 right on the heels of Facebook's leap forward (previous post, ability to vote up/down on advertisements users see) is this monstrosity called SocialCash.

"What that means, is that users are given the option to earn stuff in return for completing offers -- like applying for credit cards, getting information about vacation rentals, receiving free trials of magazines, or finding out their credit score. The offers subsidize the reward (like, say, an iPod Touch or an XBox 360) and the developer gets a cut."

so wait, wait--let me get this right.
i click stupid advertisements, fill them out and pretend to like them, and instead of paying me, you give me branded products. yeah, cos that sounds revolutionary. or like a banner ad in and of itself: "click me and a win a free ipod!" yeah thanx no.

i don't want to sign up for credit cards, give out information to third parties via banner ads, or learn more about vacation rentals i won't use, just so i can have a chance at an ipod. no value there. this won't work.

when i said users should be involved with their advertisements, i said in the ads selection. "paying me off" taking time to do shit i don't want to do for stuff i don't want when i could be playing with facebook apps (talking beneath me, here, but you get the idea) is not my idea of a good time.

the only reason socialvibe works with perks is because a) i don't have to DO anything -- the badge stays on my page. b) the information i share is with socialvibe only, or may be shared with my sponsor/charity of choice. c) i go into it knowing that i'm not doing it for the perks, i'm doing it for charity, so if i don't get a $20 gift certificate, i'm not going to be cranky.

but if i fill out hundreds of stupid banner ads or pop up offers or what have you and don't see anything for it--except for lots of credit card bills well then i'm still going to have to go with a HELL NO. this is not RELEVANT. REMEMBER to be relevant when dealing with a teen market! you are not important to them unless you're doing something they already want to do. newsflash: they don't already want to fill out for vacation rental deals. they're sixteen.

"The Gratis concept works for two reasons: 1. people love free stuff, and 2. in order to get the stuff, users must invite a certain number of users who also complete the program (the number varies based on the value of the reward). So the customer pool grows virally and exponentially."

...stop calling it viral. it makes you look bad. < /peeve >

"Clearly, the viral spread didn't work"--anyone else find that sentence funny twofold?