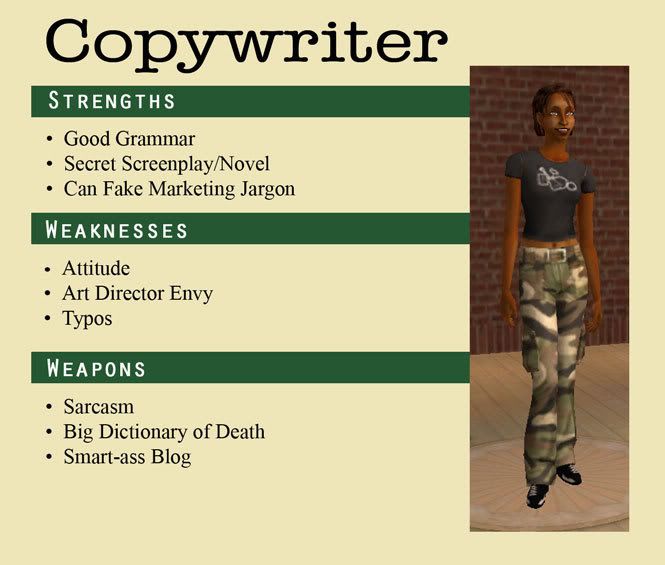 [longest blog post title evarrrrr]

Creative Beef has taken agency fun and games to the next level: BATTLE. mwuaha. in the spirit of a certain mmorpg, adhack brings you World of Advertising. click for all the different classes, from CD to AE.

on Dear Jane Sample, Jane and i are putting that game to work. she asked for a challenger, and so now we are comment-battling (for what prize, i have no idea. someone level us up? haha). amusing nonetheless.

she nearly slew me with her Shaolin Jargon:
[...]they won't pay for that" which slowly brings you back to reality. But to restore goodwill, I will let you present your "best idea ever" to the client … as long as you deliver to me what I asked for in the brief. Oh and you don't get and extension.

i rebutted Tiger Style with a near-fatal:
[...]it's the "they won't pay for that" which causes the damage. we don't want the Creative Vision ruined by Shitty Production (booo, hisssss). so we drink some english tea which enhances our Ability to Work Under Pressure (+5 which combined with Free Pizza), enabling us to Meet Brief 2 Minutes Before Deadline.

who will win? only time will tell. want to do battle? leave me a comment! get creative.