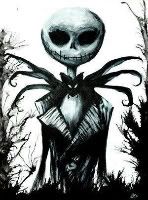 other places to be! Halloween link haze, loves.

THE GOOD:
+ Joshua Hoffine's Horror Photography -- badass. take the look. i love the wolf one and the clown one... least fave is probably baby with spider or hands under the bed.
+ Swedish Dawn-till-Dusk Ads -- i like the split effect; freakin' sweet. almost makes you want to turn into something at nightfall. almost.

THE BAD:
+ 4 Real-Life Things That are Creepier Than Halloween -- arguable. i actually don't find most of this creepy, except maybe that last bit, about the cat feces.
+ Online Pumpkin Carving -- tricky, like most .swf type "fun." you just wish you could make one puke like this (photo courtesy coworker, Steve).

THE UGLY:
+ WTFCostumes -- dot com, of course. but omfg is that doesn't house some of the worst costume ideas ever... i don't know where does.