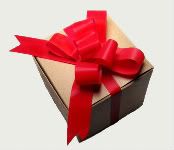 or Secret Snowflake, or whatever. basically, your shot to give & get this holiday season. i am hoping that it will also encourage you to meet new people on twitter--especially if you get someone that you aren't already following!

this will be done in "real life," so the only mandates are that you're on twitter and that you send me your real life address. only 2 people will know it: me, and whomever your Secret person is who sends you stuff. me, i'll burn my copies in my fireplace Christmas Eve and put a picture up of all the addresses burning. :D

here's who is in so far:
@jaredwsmith @ldwatters @windo @kylecameron @faris @caff @Adrigonzo

want in? DM me @thegirlriot or email me @ thegirlriot[@]gmail[dot]com.

you CANNOT spend over $20 on the present.
you also should not spend less than $10.

ALL PARTICIPANTS DM or email me the following:
--Your preferred address
--3 things you like.
(not items, but things... like knitting, True Blood, and candy corn.)

my cat will then pair us all up i mean elfster (thanks Kyle!) and i will send each of you your secret person. you will be paired up by Black Friday (this Friday, the 28th). i can't monitor when you send out your gift, but it would be nice if you could have it arrive by December 21st, in time for the full holiday season. any questions, just comment! thanks.